Toxic spray used by East Lothian Council near the Site of Special Scientific Interest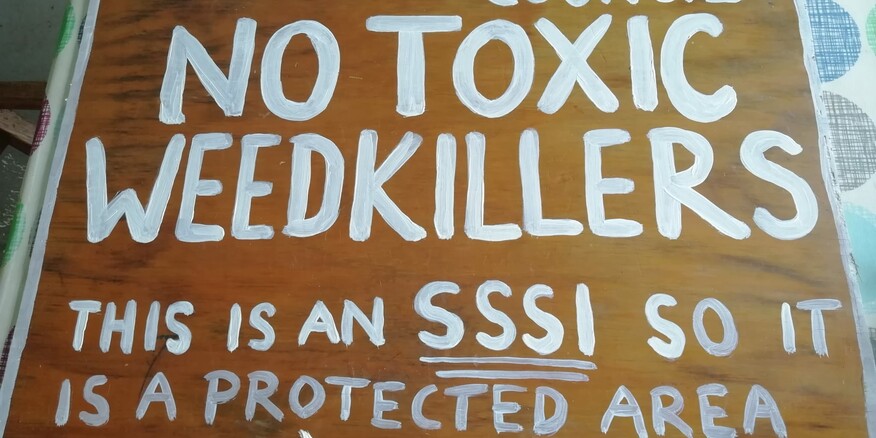 Residents can have no confidence in the Council's ability to keep our open spaces healthy and safe for people, pets and wildlife.
Jacques Cottrell
Residents of East Lothian reacted angrily to news that the local council used toxic spray on parks, paths and verges, which is banned in some European countries and US states.
Now residents of North Berwick have discovered Council workers using spray near a Protected Site of Special Scientific Interest (SSSI) in the town.
Residents living near Berwick Law contacted East Lothian Greens after the revelations were published. They submitted images and testimonials showing Council workers using weedkillers behind houses in Glenburn Road, along a wall that borders a wetland in the conservation area.
Chemicals sprayed in this area will seep into the ground, pond and marsh that feeds a Wetland of Special Scientific Interest (SSSI).
The wetland is an important habitat for many species of waterfowl (teals, moorhens, little grebes, swans, greylag geese, herons as well as other wetland wildlife.
Spraying chemicals in a way that endangers an SSSI may be illegal without permission from Scottish Natural Heritage.
However, Council officials have confirmed to the Scottish Greens that workers are using Roundup ProVantage at sites across the county. The spray contains glyphosate, which can kill birds, bees, worms and fish.
Following the revelations, more than 300 residents signed a petition calling for it to be banned.
Council spokespersons told the media that they believe glyphosate "can be used without unacceptable risks to people or the environment" and that the Council only uses glyphosate products "where the mulching or manual control is not possible".
However, Mark James, Scottish Greens candidate for Dunbar & East Linton in the forthcoming local elections, refuted the Council's claims.
Mark commented:
What the Council claims simply does not match what the experts are telling us and what the people of East Lothian are seeing with their own eyes.

Glyphosate is a toxic chemical and council officers spray it widespread and indiscriminate.

This is irresponsible, unacceptable and must stop immediately.
In East Linton, Dunbar, Haddington, Musselburgh, North Berwick, Prestonpans and Tranent, residents all report using the spray near other plants, play parks, waterways and seafronts – environments for which even the manufacturer claims that the chemical is not suitable.
Jacq Cottrell, North Berwick Coastal Greens candidate, said:
This deliberate destruction of our environment is an absolute outrage. It's bad enough that a toxic chemical is being used in our parks and streets, but that it is being used near a Protected Site of Special Scientific Interest is beyond comprehension.

After these revelations, residents can have no confidence in the Council's ability to keep our open spaces healthy and safe for people, pets and wildlife.
The East Lothian Greens have called for an immediate suspension of all but emergency ground work until the Council has carried out a full, publicly available environmental audit of the chemicals supplied to its workers – or used by its subcontractors.
Shona McIntosh, Scottish Greens candidate for Musselburgh, commented:
The Council must be aware of the biodiversity crisis which it is aggravating. The only way to get there is through a truly radical change in the political makeup of our councilors in May.
For more information on the local East Lothian Greens election campaign, please visit https://greens.scot/east-lothian/2022-elections.​